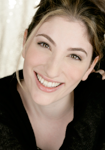 Deborah Grausman
Founder
Deborah is thrilled to be making her producing debut with SENSE & SENSIBILITY.

Growing up in New York, she was exposed to the arts at an early age and gained a deep appreciation for the theater, the symphony, and the opera. After graduating from Duke University with a BA in Music, she went to her very first professional audition and was cast in THE SECRET GARDEN at Media Theater.

Deborah's favorite roles include Wendy in PETER PAN, which garnered her a Philadelphia Theater Critic Award nomination for Best Lead Actress in a Musical, Seama in the Off-Broadway production of A STOOP ON ORCHARD STREET, and Cherubino in Mozart's THE MARRIAGE OF FIGARO. In addition to traditional musicals and opera, Deborah loves working on new shows, which prompted her to start BMTW. She has performed in many readings and has lent her voice to several demo recordings of new musicals including SENSE & SENSIBILITY, STREETS OF AMERICA, and THE MAN IN THE IRON MASK. She loves being involved in the creative process and the beginning stages of new work. She has spent many glorious summers in the Berkshires at institutions such as Tanglewood, Berkshire Theater Festival, and Belvoir Terrace.

When not performing or producing, Deborah can be found in her ceramics studio. She has won several awards for her work, which is currently on display at the Hoadley Gallery in Lenox, MA. Deborah is also a working voice over artist, and her voice was recently heard as the young girl on a National commercial for the Nintendo DS game, MY BABY. For more information please visit www.deborahgrausman.com.


Eleni Delopoulos
Production Assistant
Eleni Delopoulos grew up on the Jersey Shore and has been involved in theater since the ripe old age of six. She started producing at age 16 when she founded a theater program for her art-deprived middle school, where she produced and directed four musicals—the program still exists today.

Since then, she attended Fordham College at Lincoln Center as well as the N.T.I. at the Eugene O'Neill Theater Center, where she wrote her first musical based on Aristophanes' LYSISTRATA, which has now been seen throughout New York including a run at TADA Theater in Chelsea. She primarily makes her living as an actor—beginning her career in A STOOP ON ORCHARD STREET (Off-Broadway) where she first met Deborah. Eleni can currently be seen in A LITTLE NIGHT MUSIC at the White Plains Performing Arts Center, starring Penny Fuller.

In addition to acting, she teaches several after school theater programs in New York, and is a founder of the a summer camp for teens in Kingston, New York. She is excited to be a part of BMTW's first production!